Gyeonggijeon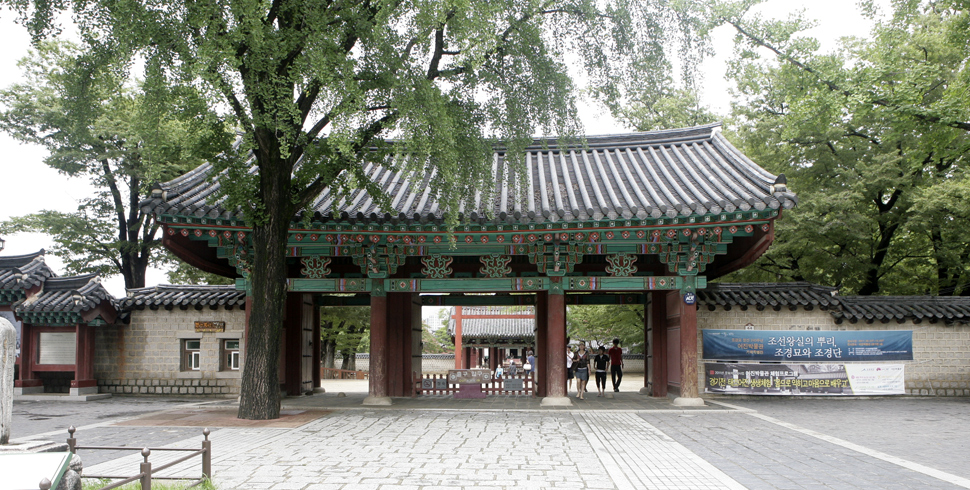 Gyeonggijeon admission fee
admission fee
Classification
non-Jeonju citizen
Jeonju citizen
individual
group(per one person)
individual
group(per one person)
Adult
3,000
2,500
1,000
800
adolescent · university student · soldier
2,000
1,500
800
600
Children
1,000
500
500
300
Children Only 7 years old or older but 12 years old or younger
adolescent Only 13 years or older but 24 years old or younger
soldier Below staff sergeant soldiers and duty police
AdultOnly 25 years old or older but 64 years old or younger
Group More than 20 people
Business hour
Summer season:

March 1st ~ October 31st ( 09:00~19:00 )

Winter season

November 1st ~ end of February ( 09:00~18:00 )

※ Tickets are available from 9 a.m. to 1 hour before closing ※ Tour for Jogyeongmyo in Gyeonggijeon can be limited for the sake of protecting cultural property.
The historical symbol of 500-year-old Joseon Dynasty

What is the history?
Lee Eo-Ryeong says 'history is not a time that has gone away but standing, and a time that even flowing down toward the future'. History is standing in time and space, and at the same time being connected in every way and acts as a learning space of truth, wisdom and courage to open eyes and ears and provide chances of experience and contemplation. History is a living teacher, a repository of truth, and light for the future. In this respect, Jeonju Gyeonggijeon is the beginning of 500 years of Joseon Dynasty and at the same time an ongoing history of our people, and a time that is 'even flowing down toward the future' from which we can measure our nation. In the center of the city, what kind of story is waiting for us about this quiet and still ruin? Let's move our step to find the history that may open our mind's eyes.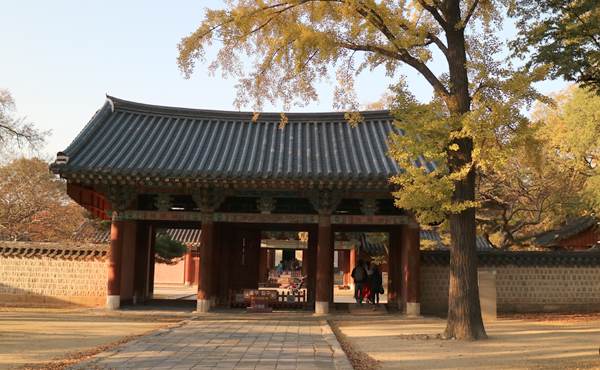 Gyeonggijeon enshrines the portrait of the King Taejo who founded the Joseon Dynasty. It is built in 1410 (10th year that Taejong reigned) in order to perform ancestral rites. At first, those building in which enshrines portraits of Kings were called 'Eoyongjeon'. In 1412, they were called as 'Jinjeon'. The name was changed again in 1442 to 'Gyeonggijeon' in Jeonju, 'Jibgyeongjeon' in Gyeongju, and 'Yeongseungjeon' in Pyeongyang. Gyeonggijeon was lost in the 1597 during Jeong-yu War but rebuilt in 1614.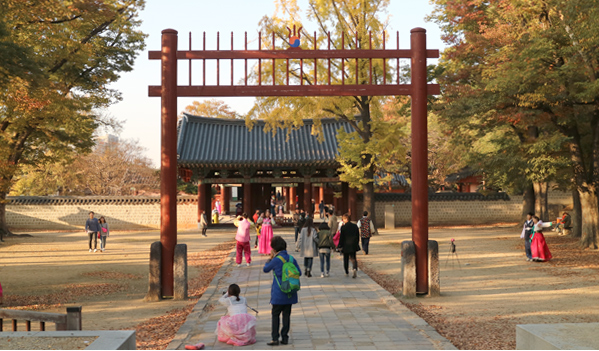 Gyeonggijeon consist of Hamabi, which indicates the holiness that anyone who wants to go in should get off their horses, and red colored Hongsalmun Door, Waesinmun, Naesinmun, and finally Jeongjeon, where King's portrait is enshrined. When taking into consideration to be the royal household shrine, it is called 'Shinmun (god's door)' and when going through the 3 doors inside HongSalmun, one sould enter through the east (right) door and come out through the west(left) door. The middle one is 'god's way' through which King Taejo's spirit goes in and out. Gyeonggijeon has significant importance, since it kept Jeonju History Archives as well as the portrait Joseon King Taejo Lee Seong-Gye. It was the 21th year of King Sejong (1439) that the History Archives was installed in Gyeonggijeon.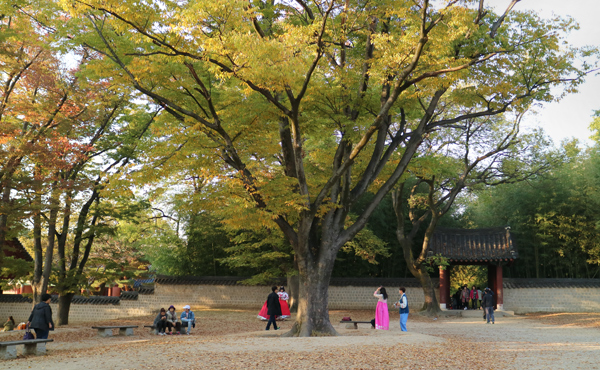 In the pricincts, there is Gyeonggijeon, which enshrines the portrait of the King Taejo (tangible cultural properties No.2) and Jogyeongmyo (grave, tangible cultural properties No.16), which enshrines the mortuary tablet of the Silla boatman Lee Han couple, who was the progenitor of Jeonju Lee family. Especially the Royal portraits museum in which Portrait of the kings including the King Taejo's Portrait (national treasure No.317) are placed is in the pricincts.
One is reason why people love Gyeonggijeon is the antique appearance surrounded by wooded grounds. There are various kinds of trees in Gyeonggijeon.