Hanbyeokdang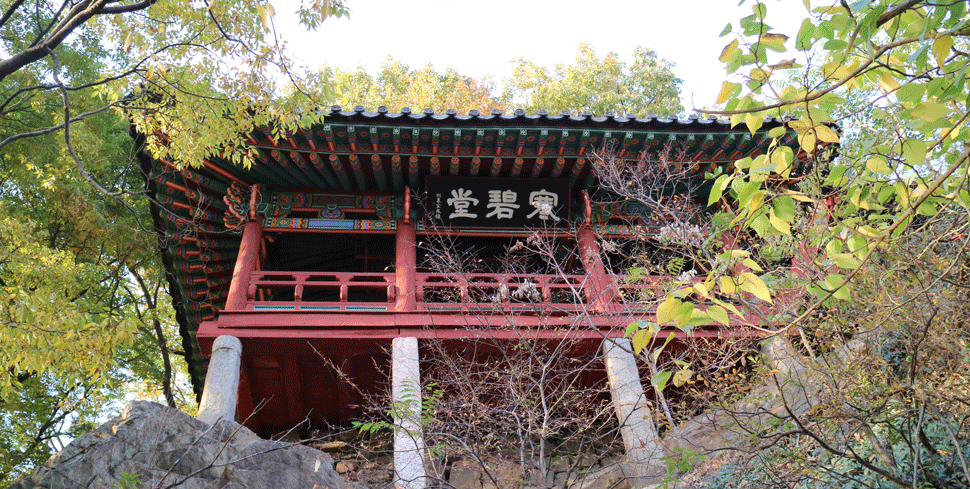 Hanbyeokdang having the style and appreciation of art harmonized with the nature

A poet Choe Seung-Beom sang about a scholar's pleasure and sorrow that he probably felt from "Han byeok cheong yeon" (Blue mist watching from Hanbyeokdang). Hanbyeokdang, a small pavilion which is built on the cliff, is said to be one of the eight most beautiful sights in Jeonju. In the past, mist out of the wave striking the rocks was called "Han byeok cheong yeon".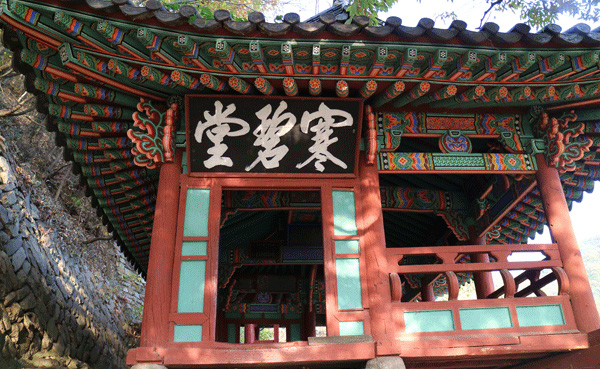 Numerous poems about the 17m² floor, rafters and eaves is giving a clue that Hanbyeokdang was a place for comfortable talk with friends. It is designated as the Jeollabuk-do tangible cultural properties No.15. Hanbyeokdang(Jeollabuk-do tangible cultural properties no.15) which is on the high cliff and beside Jeonju Okryudong hill was famous for a place where students enjoy nature and kids do fishing and have bathe.
However, the Jeonju people have the dizzy memory with the water which swells suddenly during heavy rainy season in summer.
The noted calligrapher Lee Sam-mahn and Hanbyeokdang
Hanbyeokdang was long been visited by many poets and calligraphers, and and a lot of poems that they created are inherited from then. Through "Honam town map", to which poems that more than 20 public figures wrote in Hanbyeokdang is attatched, we can assume the taste of art in those days. There is a story about fan and Changam Lee Sam-man (1770-1847), who is selected as the 3 noted calligrapher in the later days of the Joseon Dynasty.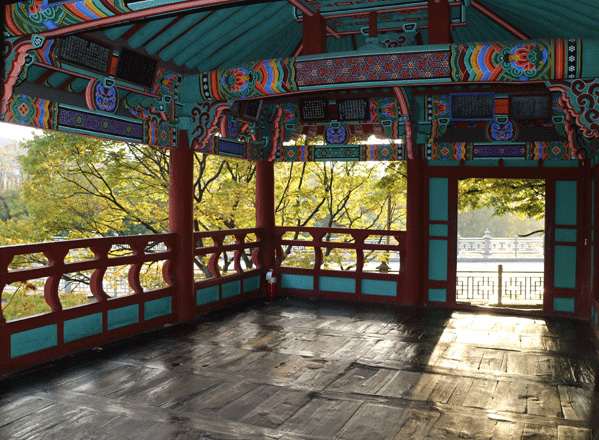 『This happened in Changam's early days. Under the scorching heat, a shabby fan peddler in a sweat came to sit under the Hanbyeokdang shade to the sweat. The day was hot and the fan wasn't selling well, so the peddler came to take a rest. However, in the cool shade the peddler couldn't but fell asleep and began snoring. To the peddler's surprise, a stranger was writing letters on the fans.
"Hey, what are you doing on my fans ?" The fan peddler snapped at the stranger, who seemed to be a scholar, in anger.
"Don't be too angry. Sell these fans inside the castle, and you will sell all of them before sunset." The fan peddler checked the scholar's house in advance so that he can claim for compensation, and went inside the castle. Surprisingly, the fans sold like hot cakes, which the peddler could't sell how hard the peddler shouted. The peddler went to the scholar's house with his purse heavy with coins. The fan peddler apologized for snapping at him and asked scholar's name. The scholar was the master calligrapher Changam Lee Sam-Man.